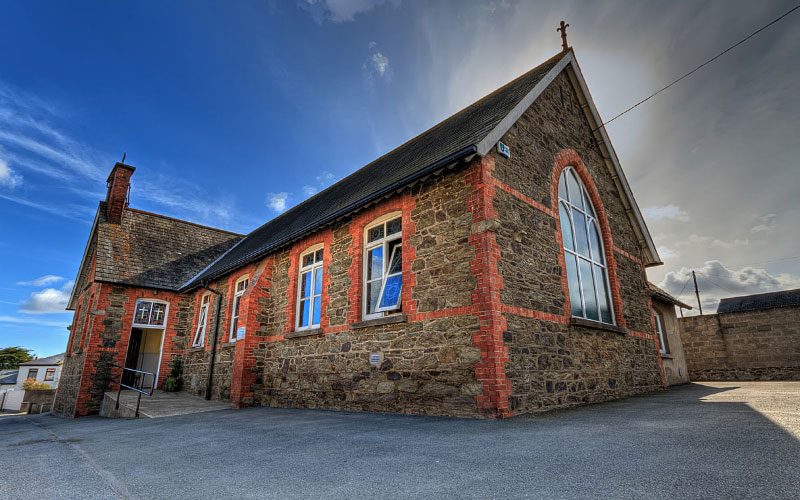 The village of Rathnew is associated with St. Ernan who studied at Clonmacnoise.  On the site of the old burial ground in Rathnew is the remains of an ancient church, however, only a fragment remains.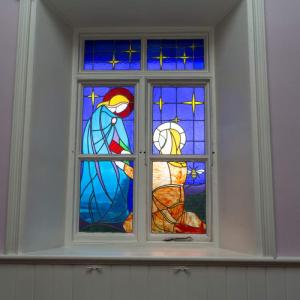 The two notable Parish Priests of Wicklow are buried there, side by side. Rev. William Cavanagh (1704-17) and his nephew the Rev. Stephen Cavanagh (1747 – ).  St. Joseph's Church Rathnew was completed in 1882 by Canon William Dillon, Parish Priest of Wicklow.  The first Mass was celebrated on Easter Sunday of the same year.
The school in Rathnew opposite the Church was built by V. Rev. Michael Canon Hoey PP Wicklow (1923-49).  In 1965 during Fr. John Kingston's incumbency as parish priest of Wicklow (1964-70), a second school was built, providing separate accommodation for boys and girls in the village.  In 1941 John Charles McQuaid, Archbishop of Dublin, appointed Fr. Patrick Lavelle as Rathnew's first resident curate.  In recent years, there was  a complete re-decoration of St Joseph's, together with the installation of new stained glass windows.
James L. Kavanagh, Chairman, Parish Pastoral Council
Spring 2007.