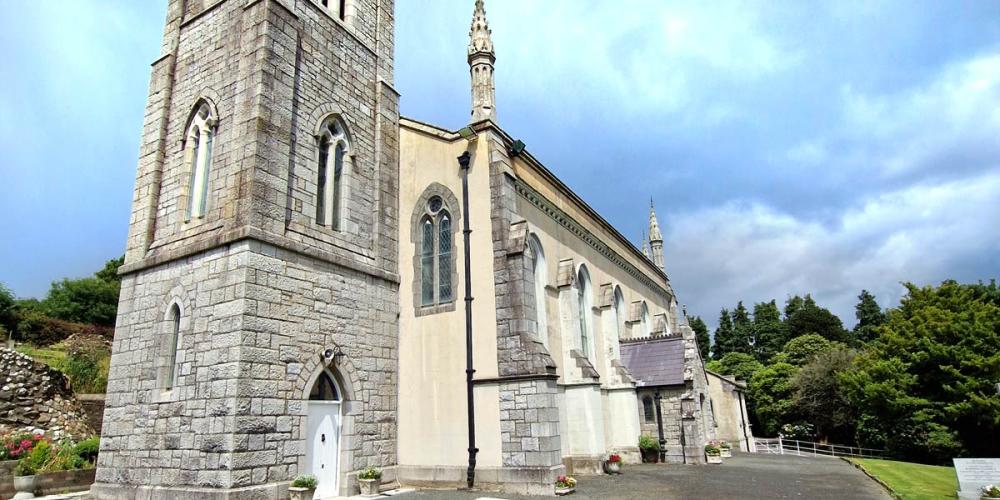 The church of St. Mary's in Balinacor is located just off the main Wexford/Dublin Road. The piers of the entrance gate to the parochial house bear an inscription that informs us that this chapel was built in the year of our Lord 1793 by the Rev. Joseph Purcell and by the subscriptions of the public.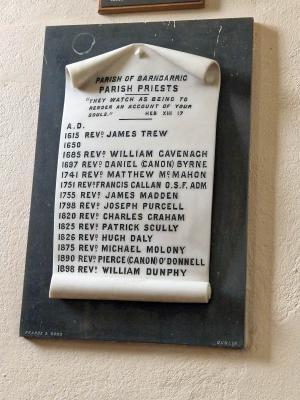 The piece of ground was a donation from Robert Byrne, Esq., to the in habitants of the Parish for ever, gratis. The inscription reads as follows:
"This church was built in the year 1880 by public subscriptions by the Rev. Michael Moloney, Parish Priest A.M.D.G."
The chapel at Barndarrig in Ballyhara Townland, west of Potter's river had been built in 1793, on land given a nominal rent by the Byrnes of Cabinteely.
The Intel over the east door of the nave bears the inscription:
"This Church was built by the Rev. Michael Moloney P.P. and dedicated by Cardinal McCabe June 6th 1880."
Fr. Moloney made sure that his name would be preserved for posterity but it is an exaggeration to say that he built the church. His achievement was more to embellish than to build what had already been there for some 87 years.
Church Interior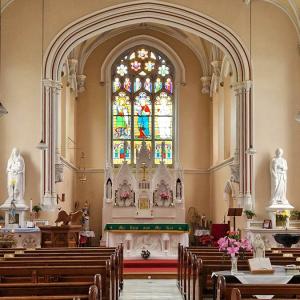 The Nave is divided into five bays and is pierced by lancet windows under an enclosing arch. Externally these bays are formed by massive intermediate buttresses, with weatherings and canopies of cut stone.
The Chancel was elongated to proper proportions consisting of two bays with mullioned and traceried window at the side and a stained glass window at the end, surmounting the high altar with elaborate and finely wrought cut stone foliated tracery.
The window as the work of Michael Hubert Schmitz of Aix-la-chapelle. The high altar of Caen stone with coloured marble enrichments was presented by Fr Moloney. The elaborate groining of the stucco ceiling and the clustered columns both of the nave and chancel is a characteristic feature of those times.
Church Exterior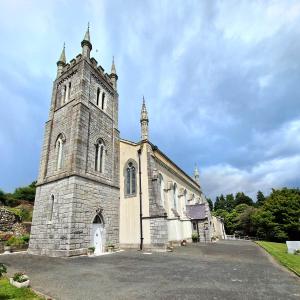 Probably the most remarkable feature of the church and one which is unusual in rural churches throughout Ireland, is the amount of work devoted to its exterior decoration.
Parapets were raised along each of the side walls with massive cut stone coping continued on the gables each of which was finished with a granite cross, grouped buttresses was introduced affording solidity and strength rising upwards in gradual stages of cut stone and finally uniting in elaborate pinnacles rising high above the parapet with panelled faces and canopies and tapering spires adorned with carved crochets and surmounted by delicate finials of metal.
The Architect was Edward Hague while the builder was James Clarke of Wicklow.
The opening and dedication ceremony was performed by his Grace Most Rev. Dr. MacCabe Archbishop of Dublin on Sunday June 6th 1880.